Sonia Gilbert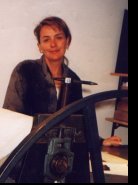 Sonia Gilbert was born in Québec City and spent part of her childhood in the heart of the Old City. From that time on, her young eyes were filled with the beauty of those history-laden walls.

Following her heart, she specialized in etching when completing her Bachelor's degree in Fine Arts at the Université Laval in Québec City. After graduation, the originality of her work won her various advanced training courses, namely at the Banff School of Fine Arts and at the Atelier de l'Île in Val-David. Since then, she has participated in several exhibitions across Canada.

One of her etchings, entitled Encore, has been selected for publication and sale in Europe by the European National Committee for UNICEF. Sonia Gilbert has been a member of the Conseil des Métiers d'Arts du Québec since 1983. In 1984, she joined the Association des artistes de la Rue du Trésor in Québec City, and she exhibits her etchings on this famous street which is renowned throughout the continent.

Her concern for details, her sensitive use of colors and the long painstaking hours devoted to her works are all expressions of love for her craft. Her inspiration is found through nature walks, travelling and life in this city which has nurtured her since childhood... these captured moments are offered to the viewer as a part of herself.